Hi, my name is Laura.  I'm writing for you because I want to share with you all the exciting stories, accumulated knowledge and helpful tips that I've gathered along the way. I work at this crazy (but fun) place called Absolute Tent & Event Services in Toronto,
We deal with weddings, all kinds of special events and lots of TV commercials with the occasional feature film thrown in between.  We rent out all kinds of items from directors chairs, 10×10 pop up tents and air conditioners to big wedding tents, electric heaters, tables and chairs.    We have anything and everything!
Absolute Tent & Event Services provides a great opportunity for me to learn the events planning industry. I work in the warehouse and every day is different.    I started working here part time about 3 or 4 years ago vacuuming location mats – very glamorous!    After paying my dues and with a lot of training, I'm now full time and the main point of contact here in the warehouse for all our customers that come here for their gear.   I do everything from picking and loading gear, driving a forklift and processing paperwork for customers.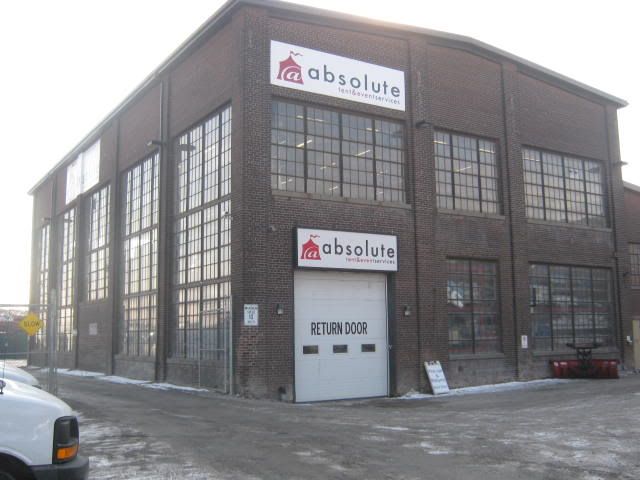 It's certainly not the type of job I thought I'd have… Keep in my mind I thought I was going to write a blockbuster screenplay or two (because my first would be so amazing) and be a famous director by now.
As you can see, that's not what happened.   However, sometimes you just have to go where life takes you and you'll somehow end up where you should be.  I get to work in the events, catering and film support industry and see an entirely different and exciting side of things.  Plus I have some really great people working alongside me, and together we make a pretty amazing team.  Having such great friends around really makes a day's work so much more enjoyable.
Working in a tent and party rental warehouse isn't the easiest of jobs.
Depending on the season we could have trucks lining up at the back door all day for months on end!   Spring and summer are our busiest seasons, especially when it comes to special events and tenting.   Some days I get so swamped that by the time I look at the clock it's almost time to go home.  I swear, for the first six months of working here the beeping sound of a truck backing up would haunt me.   I heard that sound EVERYWHERE, even when I was at home half asleep on the couch.   However, like with anything, you get used to it.   I've gotten used to my nails looking nasty, wearing steel toed shoes, popping up a 10×10 pop up tent in under a minute and a half and singeing my hair (just a little) when testing the 72" BBQ.  All in all it's a really great place to work.  I've seen what's really involved in making TV commercials, heard all kinds of crazy stories from movie sets, and seen some of the most beautiful weddings.